How it all started...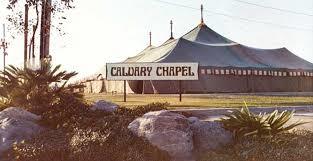 In 1965, Pastor Chuck Smith began his ministry at Calvary Chapel Costa Mesa with just 25 people. From the beginning, Pastor Chuck welcomed all, young and old, without judgment, placing his emphasis on the teaching of the Word of God. His simple, yet sound, biblical approach drew 25,000 people weekly.
With a sincere concern for the lost, Pastor Chuck made room in his heart and his home for a generation of hippies and surfers, generating a movement of the Holy Spirit that spread from the West Coast to the East Coast, and now, throughout the world. What began as a small local church has now grown into an international ministry of over 1,800 fellowships throughout the world.
Here in our website, we invite you to find out more about who we are today, what we believe and we invite you to join us as we meet and worship our wonderful Lord and Savior, study His Word, fellowship together, grow in His grace, and desire to make disciples and go into all the world.


Expanding the vision...

THE PRIORITY OF THE WORD
Taken from "Calvary Distinctives"
"Till I come, give attendance to reading, to exhortation, to doctrine." 1Timothy 4:13
A primary distinctive of Calvary Chapel is our endeavor to declare to people the whole counsel of God.
We see this principle illustrated when Paul met with the Ephesian elders in Acts 20. As they were on the shore of the Aegean at Miletus, around the coastal area of Ephesus, Paul said that he was innocent of the blood of all men, "For I have not shunned to declare unto you all the counsel of God." Acts 20:27
Now, how is it possible for a person to claim to have declared, 'the whole counsel of God?" The only way a person could make that claim to his congregation would be if he taught through the whole Word of God with them, from Genesis to Revelation. Once you've taken your congregation through the Bible, then you can say to them, "I have not shunned to declare unto you the whole counsel of God."


Where we are headed...
What's the bottom line? More than ever, Calvary Chapel of Norristown is committed to fostering a community built around Jesus and His Word. We have hope. Hope for the future. Hope for better. Hope for progress. Hope in Jesus. And as we move forward as a church family, becoming more like Jesus remains at the center of who we are and what we desire to be.
What This Means For You
What does this mean for you? It means you're welcome to join us at Calvary Chapel as we pursue Jesus. It means you will be taught the Word of God, in a manner that you can understand and apply to your life. It means that you can be surrounded by a group of imperfect people who have experienced and are experiencing the grace of God. We would love to meet you.